Kennel Chardas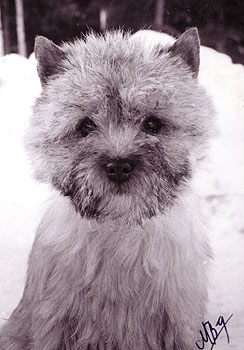 My kennel:
I breed cairn terriers at my home on the island of Utö in the southern
part of the Stockholm archipelago. An active member of the
Swedish Cairn Terrier Club for over 16 years, I have served on the board,
the breeding committee and the local Stockholm committee.


I attach great importance to applying the recommendations of the
Swedish Kennel Club and Swedish Cairn Terrier Club regarding breeding.
I also follow geneticists' recommendations for breeding sound,
healthy dogs with good fertility (maximum inbreeding quota: 6%).


The goal: sound dogs with sound bodies.
I regard cairn terriers as active dogs that need owners
with humor and authority.






How it started...
In 1981 I was given the cairn terrier Winnie-Pouls Chardas as a wedding
present.
She developed well and in 1982 became a Swedish dog-show champion.
Chardas was the start of my cairn-terrier breeding activities.



I got strong support from Margareta and Erling Poulson of Kennel
Winnie-Pouls
and Margita Mörnborg of Kennel Mondoras, where Chardas' mother was born.
Margita, a very active cairn-terrier breeder at that time, imported several
dogs.
She taught me how to groom and trim cairn terriers - never use scissors or
knives, strive to create "a soft profile with an impression of shagginess."

I continue to follow this advice. I groom and trim my own dogs and provide
puppy buyers interested in day-to-day grooming/trimming with information
and tips. Cairn terriers should be trimmed four times a year at
three-month intervals to ensure a "rolled coat."


Names that stick in my mind
Among the dogs that I have exported, the most successful, both
at dog shows and as breeding bitch, has been Chardas Clic, a multi-champion.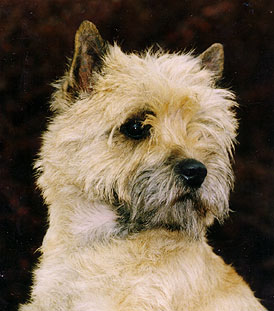 She is owned by Yvonne van den Bogert,
Kennel Ol'Kyarnrowen's, Holland (www.cairn-terrier.nl/index2.html).

In spite of a small number of matings,
Chardas Cevin Costner has sired several highly successful offspring
Click here to see photos .
At dog shows, his large size negatively influenced results.




To say nothing of my other "stars"
(check them out under "Vinnande hundar").


Address: Lena Lindström
Mynäsuddsvägen 18
130 56 Utö
+46-8-500 292 33
+46-70-717 58 63
E-mail :chardas@telia.com